---
local honey sales
---
---

---

A&B Honey

Groveland, FL

(407)222-4936

AandBhoney@aol.com

Orange Blossom, Palmetto, Brazilian Pepper, Wildflower Honey and fresh pollen. Call for seasonal honey variety availability.

---

---

Out of the Ordinary, Not Your Everyday Nursery.

Click on the image to be directed to her FB page for dates and times of special events and seminars.


---

---

...and pasture raised chicken eggs.

---

---

Club members advertise here!


---
---
Jeremy Kadletz has 5 used telescoping covers (aluminum top) for sale at $15 each. They are in good shape, have been repainted white, and should last for several years. They came off of good hives but he's switching simpler tops as he grows. Contact:
jeremy.kadletz
@gmail.com
or 407-721-5468
---
By calling 888-922-1293 you can get a 15% discount on this subscription by mentioning you are a member of a local bee club. They also have a free e-newsletter to keep you up to date on the latest news, events and information you need to be a better beekeeper.
<---Click on the image, then scroll down to the ABJ e-newsletter to sign up.

---
---
---

Jason Deeringer 863-412-9895
Live Bee removal. Queens.
---

Serving the industry for over 30 years. Online store offer supplies for: beekeeping, candles, soap and skin care, mead and wine.
Free shipping on most orders over $150
---

Serving the southeast for over 60 years. America's oldest and largest manufacture of beekeeping supplies.
Offers the American Bee Journal, "The Beekeeper's Companion Since 1861".
---
---

A family owned and operated small business that has been working and caring for Honeybees for over 30 years. Offering hands on beekeeping seminars, wax rendering and queen rearing. Also sell Nucs, queens, beekeeping supplies, beeswax, local raw honey, bee pollen, and assorted gift items.
---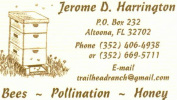 Jerry Harrington - 352-406-4938 or 352-669-5711 (cell) - Altoona, FL Email: trailheadranch@gmail.comBees ~ Pollination ~ HoneyNow taking reservations for spring nucs and queens.
---

For the past 31 years, Mann Lake has been dedicated to the beekeeping community. Sign up for weekly online specials via
Bee Bucks Blast. Free shipping on most orders over $100.
---

Gary Sisson 352-267-7317 Groveland FL - Specializing on the needs of the hobbyist.
Queens ~ Nucs ~ Honey ~ Pollination
---